When study moves you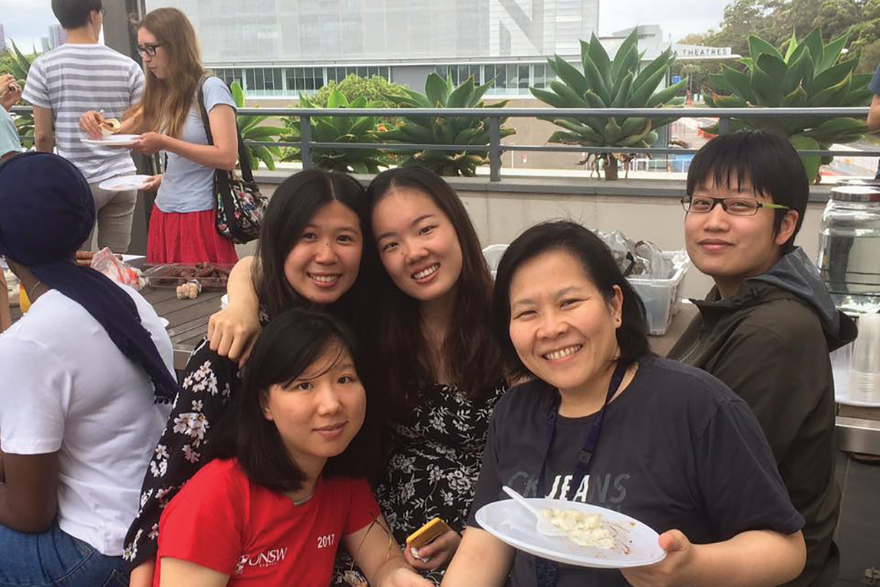 Photo courtesy Susan Bazzana
Moving across the world alone is hard at any age. Doing it alone as a young adult to study in another country requires a certain amount of maturity, life skills and common sense. The community you are able to establish upon arrival plays an important part in how successfully the transition is navigated.
Where you live, the friends you make (or don't make) and the support structure that a young person has around them are crucial to the journey. Many who come to Australia to complete their degrees have little engagement with the wider Australian culture; those who do are more likely to be active outside the 'university bubble'. They might be part of a faith community, play in a local sporting competition or have a part time job where a friendly and hospitable workmate invites them 'home'.
However, after seven years of working with international students as Dean of New College Postgraduate Village (NCV)—an Anglican residential college catering particularly to international postgraduate students—I am still surprised how little this happens. The majority of the young people I meet have never been invited to share a meal in an Australian home, and might spend three or more years living in Sydney without ever really experiencing wider Australian society.
There are some exceptions to the rule. Dr Robert Lingard, Chaplain at Southern Cross University, has developed the 'Aussie Sunday Lunch'[1] where two university students are invited to lunch with a local family, who come and collect them from the campus and share a meal and hospitality with them. The families are often from local Christian churches (or other faith communities). Sometimes lunch turns into a long-term friendship between the hosts and students, which provides the students with a local support base.
During the COVID pandemic, Wellspring Anglican Church in Tasmania, through the Anglican charity Show Hope Tasmania,[2] was offering meals to over 600 international students a week, with more than 8 tonnes of food provided by Foodbank and local farmers.
Many people have the perception that all international students are from wealthy backgrounds and do not experience financial hardship. While international students are often more privileged than many in their home country because of their education and opportunities, their families may have made great sacrifices to financially support them in obtaining an international education. Some are the 'chosen one' of their family, with everyone at home contributing to the costs of their overseas study in the expectation that the financial benefits from the education of the one might help the many. This can place considerable strain and a weight of expectation on the 'chosen' to perform and succeed pressures that their Australian counterparts do not usually experience.
Students who might be bending under the weight of the expectations from family at home are often unaware of, or reluctant to access, support services like mental health care on campus. Acknowledging stress, anxiety or depression may not be understood or encouraged by families back home. The cost of accessing these services to students on limited incomes can also be prohibitive. Communicating about such personal issues with someone (albeit a trained professional) might be complicated by not being able to do so in their mother tongue. If they do acknowledge their struggles, the student might be terrified their families, their government or their sponsoring company might find out and that it will impact their return home.
Within our New College communities we have tried to address this through the appointment of an Anglicare Counsellor, who is available to meet with individual residents on a weekly basis so that they can confidentially access qualified mental health support. The system has enabled many residents to access support who otherwise would not have done so. We also provide training for our student leaders so they develop listening skills and can provide quality pastoral support at a grassroots level. Equipping students to be better friends and to look out for their neighbours who might be finding transitions difficult has helped to develop a grassroots support structure.
Dr Wah Guan Lim, an academic who lives at NCV, has developed a team of residents who are doing weekly 'Coffee and Chat' sessions and a more formal English Conversation Group. Coffee and Chat is a way for residents to meet up cross-culturally for social interaction and sometimes they go on adventures together. The English Conversation Group helps build confidence and language fluency for residents who might be shy speaking English. These groups provide a supportive social network along with language skills acquisition, and help people grow in confidence.
We can't just assume that because people come from the same country they will be interested in (or able to) establish a friendship. At home they may move in very different circles or have cultural barriers to interactions; they may not automatically just 'get along'.
In contrast, I had a Pakistani man tell me as he was leaving NCV that before coming to UNSW he had never had a conversation with anyone from India, but was leaving now calling several Indians his friends. He was quite shocked about this.
Some international students take the opportunity while in Australia to explore Christian faith. I came into the building one night and a young woman was standing in the foyer looking really excited. I asked what she had been doing to look so happy and she said: 'I've just been to my first ever Bible Study. My father and I talked about it before I left [they knew she was coming to a Christian college] and he gave me permission to go along. I'm going to call and tell him about it.'
International students are often much more influenced by their family than Australian young adults of a similar age and stage. Some residents are in daily contact with their family overseas, and parents can be very influential in decision making. Sometimes people end up not really connecting here because they haven't really left home— mum or dad still make daily decisions for them—but more often the issue is that the young people are very aware of their role and responsibility within their family structure. Young people from Asian cultures in particular may face very high parental expectations around success and career achievement, and so even people from strong Christian families may experience parental pushback if they begin to explore Christian ministry as a career option instead of being the doctor or business leader their parents want them to become.
People from other faith backgrounds are often very careful and considered as they explore what it might mean to become a follower of Jesus, counting the cost of commitment in ways that Australian students don't. They understand it might impact family relationships, employment opportunities and social hierarchies if they are to commit to following Jesus as Lord.
Sometimes we are starting a conversation with people who have had almost no exposure to the Christian gospel before arriving here, and staff in our community might be the first 'actual Christian believer' they have ever met. I still find that very challenging because I'm known as a Christian by people in the community but I engage with them on so many different levels, including a disciplinary one. It is challenging to think about what their general perceptions of Christians is going to be if I'm one of the only Christians they are going to see up close.
There are many opportunities for local Christian communities to reach out to international students and to offer welcome and hospitality. As we are ourselves are welcomed to the table by God, so we have a responsibility to extend that welcome to others.
Susan Bazzana is Dean of New College Postgraduate Village and attends St John's, Maroubra.
ENDNOTES
[1] Robert Lingard, 'The Aussie Sunday Lunch: Welcoming international students and engaging the local community', Journal of Tertiary Campus Ministry Association Vol. 4, No. 1, 2020.
[2] abc.net.au/news/2020-07-31/tas- community-rallies-to-support-overseas- students-in-hobart/12512018 (Accessed October 2020).
Leave a comment
Comments will be approved before showing up.