Long Shadows: Introduction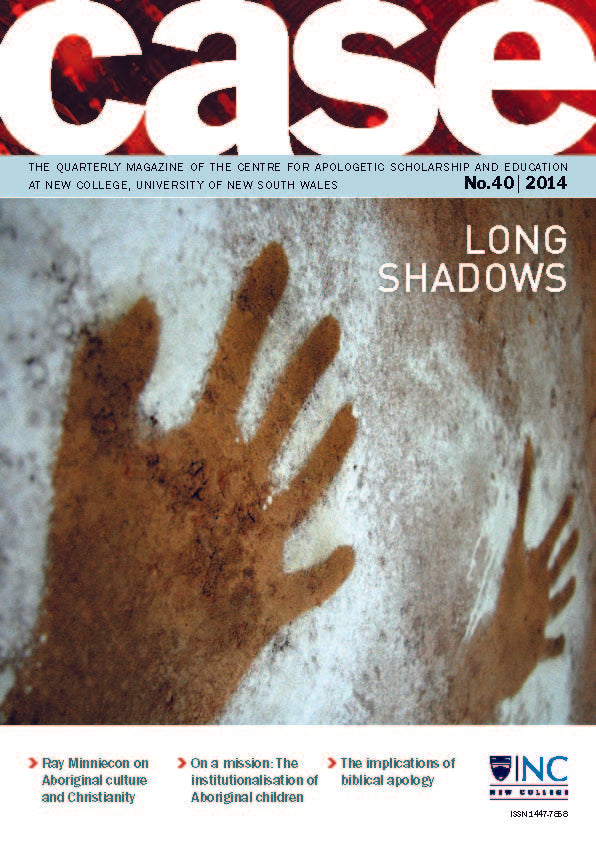 Talk about the need to understand Indigenous issues is common, but action
that makes a difference is harder to find. This has been brought to our attention in varied ways in recent times. Noel Pearson points out in his significant Quarterly Essay (1) that there has been a litany of promises, tears and disappointments. He quotes the lament of Aboriginal leader and activist Galarrwuy Yunupingu who, when he looks back on 'a lifetime of effort', sees 'that we have not moved very far' (p11). Pearson and Yunupingu both identify deeply with those who faced the invasion of white explorers; ancient tribes and nations who were slaughtered or had rights and freedom removed. Pearson seeks to challenge us to identify the wrongs and make things right by supporting constitutional recognition of Aboriginal Australians. He also wants us to stand with those who still yearn for true inclusion and the honouring of their ancestors. This should, in Pearson's plea, recognise four key grievances of Indigenous people: identity, territorial lands, language and culture. (2)
There have been many well-intentioned actions, apologies and programs. But true economic independence for Indigenous Australians, control of their lives
and their children's futures, and equality of health, education and life expectancy have not been achieved. There is a despondency within the Indigenous community, born of failure to progress discussions of a treaty and constitutional recognition. Yunupingu goes further to suggest that even when some leaders in the past have talked of failures and regrets, their tears are often for personal failures rather than the injustice faced by Indigenous Australians. (3) The churches have been connected in various ways to injustices towards Indigenous people. Collectively, there is a need to consider our actions, the depth of collective regret, and the responsibility to help right wrongs.
When we conceived this issue of Case, we were determined to include the voice of someone who is living the relationship between Aboriginality and Christianity, with all its complexity. To that end, we have included an interview with Pastor Ray Minniecon, who discusses Aboriginal spirituality and the challenges he faces being both Aboriginal and Christian at this point in Australian history. Ray's comments reflect the heart of an Indigenous man of Christian faith—who cries out for his people and, like Pearson and Yunupingu, wants to see true reconciliation.
Part of the struggle Aboriginal people face when considering Christianity stems from the chequered history of the interaction of Aborigines and Christianity over the past 200 years. Many of the episodes in this history are appalling, and for these there should be genuine shame. Others involve well-meaning but, with
hindsight, deeply misguided attempts to 'civilise' or 'protect' without concern
for the dignity, rights and culture of arguably the world's oldest people. As well, at times, the church has been unfairly blamed for the action of governments. As Australians, we all share the blame. But there are also many stories of positive action by Christians and churches and significant interactions between Christian
missions and Aboriginal people.
Dr John Harris is an expert on this history — both the good and the bad — and provides an insightful account of the institutionalisation of Aboriginal children and the role of Christians in this. Looking back further, Dr Peter Carolane writes of Victorian missionary, John Bulmer, who worked to both bring the gospel to the Aborigines of Lake Tyers and advocate for Aboriginal rights from the 1860s to the early 1900s.
Another barrier between Aboriginal people and Christianity, as Pastor Ray Minniecon points out, is the gap between the message of Christianity and the complicity of Western churches in the wrongs Aborigines have suffered,
including first and foremost, the dispossession of their land. This is an issue that must be addressed both for the sake of non-indigenous conscience and to remove this stumbling block to the gospel of hope for Aborigines.
Any conversation of this type must begin with genuine apology. Chris Swann helpfully explicates the nature of biblical apology. As well as sorrow and repent-ance, this includes accepting responsibility for the wrongs done, and repentantly changing behaviour as part of genuine apology. Christians are committed to 'apologising in such a way as to seek to rebuild and restore the relationships that have been damaged or broken by this wrongdoing' (p19). But in the face of such a complex situation, what can be done? Peter Adam addresses this question in his challenge to hear and act to resolve the Aboriginal cry for justice—a challenge that springs from the Bible, and in which it is fitting that Christians take the lead.

We hope that you find our contribution to this important issue helpful. It will be confronting! As Peter Adam reminds us, 'old sins cast long shadows' (p25). But we earnestly pray for deep regret and identification with a people who have faced great wrongs, and the wisdom and courage to respond
in appropriate ways. ©

E N D N O T E S
1 Noel Pearson, 'A Rightful Place: Race, recognition and a more complete Commonwealth', Quarterly Essay Vol.55, 2014.
2 Ibid, p13
3 Galarrwuy Yunupingu, 'Tradition, Truth & Tomorrow', The Monthly Vol.41, 2008, pp32-40.
Leave a comment
Comments will be approved before showing up.