A tribute to Walter Hooper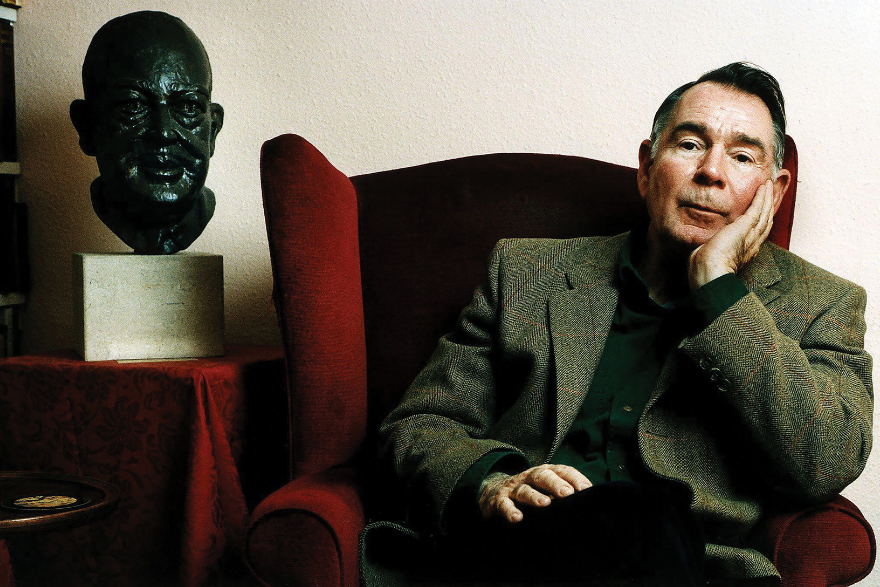 Image: Alamy.com
Walter Hooper (1931-2020) briefly acted as C. S. Lewis' private secretary in the summer of 1963, having travelled from the United States to meet the established scholar and author for whom he had great admiration. He had been corresponding with Lewis since 1954, and when he arrived in England in June 1963, his interest in and admiration for Lewis gained him immediate acceptance. He had the rare privilege of being invited to attend a meeting of the Inklings (a group that included Tolkien) at the Oxford inn, 'The Lamb and Flag'. He also attended church at Holy Trinity, Headington Quarry, with Lewis. This was a critical turning point in Lewis' life. In the months following Hooper's departure for the US with the clear intention of returning, Lewis became increasingly unwell, dying at his home in Oxford, 'The Kilns', on the 22nd November, 1963.
At the time of Lewis' death, Hooper was back teaching at the University of Kentucky. He returned to England in 1964. From then on, he vigorously and tirelessly took on the role of collating, editing and re-publishing the works of Lewis, using manuscripts taken from various scattered sources (including Lewis' rooms at Magdalene College, Cambridge). This was a difficult, sometimes contested role, but Hooper prevailed, publishing, with Collins, a series of Lewis' lesser-known works. Most significantly, Hooper went on to publish Lewis' extensive correspondence (2000-2006), a resource which became the cornerstone of ongoing Lewis scholarship. He also ensured the continuing publication of Lewis' major works with single-minded commitment and determination.
Hooper was also largely responsible for creating the aura that surrounds Lewis' home on the outskirts of Oxford. 'The Kilns' is now a favoured destination for international visitors and there is a C. S. Lewis Study Centre situated there. If you know Lewis' life and works it is difficult not to be moved by the domestic setting in which this great apologist for the Christian faith lived and laughed, read, wrote, wept and finally died. 'The Kilns' became an enduring presence in Hooper's life.
Image: "The Kilns" - C.S. Lewis' home in Oxford. commons.wikimedia.org
When my wife and I visited Oxford in 2015 we went to 'The Kilns' and also met Walter Hooper in the city, at St. Aldate's Church, where he was giving a series of interviews about Lewis for American television. Although physically frail, his detailed and colourful recollections of the subject of his life's work were insightful and truly memorable.
I was saddened to hear that Walter Hooper succumbed to COVID-19 and passed away in Oxford in December, 2020. Lewis would not be the by-word he is today in Christian circles if it were not for the work of this scholar. As with so many great figures in literary and ecclesiastical history, there is often a devoted advocate who helped bring that person to prominence. My appreciation of C. S. Lewis has been greatly enhanced by Hooper's passion and scholarship.
* * *
Dr Stiles' verse has been widely published. In 2016, his collection, Trumped by Grace, was shortlisted for Christian Book of the Year. 'The Scholar' was originally published in Studio (Journal of Christians Writing), No. 139, 2016.
The Scholar
(after an interview with Walter Hooper)
A young man when you first met Jack,
now fifty years of keeping him before you,
constantly reviewing his variegated canvas.
For you the understated scholar's life
searching, scanning, sorting,
fostering a love that grew from first encounters,
when you drank tea and more tea at The Kilns.
Elderly now,
the light of those first memories colours thoughts,
talking of the few months that you shared.
When Jack was gone,
you took the brush strokes of a great mind,
and drew together his palette of manuscripts,
tidying up the remnants of a life poured out in words.
You collected, arranged, and built his reputation,
a role accepted in humility,
that the many hues of C. S. Lewis may be seen.
Dr. Peter Stiles is Senior Lecturer in Education at Excelsia College in Sydney. He has many years of experience in the field of education, having taught and held senior positions in a variety of institutions. He gained his Doctorate from Glasgow University in Literature and Theology.
Leave a comment
Comments will be approved before showing up.