Pushing back on 'Brand Christmas'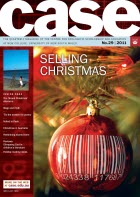 Christmas nativity knitted by my wife with pure Aussie wool!
As I pointed out in a recent post (
here
) our latest edition of
Case
Magazine has the theme 'Selling Christmas'. We attempted to unpack just some of the many possible sub-themes. One of these was to question who owns Christmas and how Christians might deal with the seizure of 'our' brand for largely commercial purposes. I've just watched the evening news with it's annual focus on Christmas sales, the customary shots from the North Pole as Santa leaves, and messages from our Anglican and Catholic Archbishops given permission by the station to have 15 seconds to bring some focus on Jesus as the 'real' reason for the season. All too obvious, that Christmas for most has little to do with Jesus.
In our lead article,
Simon Angus
reminds us that for most people Christmas means gifts. Commercially, 'Christmas' is a brand that no self-respecting business would want to ignore. And yet, as Angus points out, Christians think much less about the brand that they once owned, than the commercial entities do.
We debated the meaning of this photo last year - One family 'pushing back'?
How do we respond to the stealing of 'our' brand, for as Angus argues, this time of mass celebration is not sustained purely by religious observance or even tradition, but rather by 'Brand Christmas'. We could adopt one of the extremes of either decrying the commercialisation of Christmas, or mindless assimilation. But instead, he suggests a third way for Christians at Christmas in our non-Christian communities, celebrating the Messiah's birth within the midst of all that passes as Christmas, proclaiming or 'gossiping the gospel'; what Peter Jensen calls a 'grassroots whispering campaign'.
One of my grandchildren playing with our woollen nativity
"Christians ought to push back on the notion that gifts are the sole reason for, or climax of, the traditional Christmas gathering. This would be as obviously ridiculous as if, at the first Christmas, the host of angels suddenly turned their attention and worship from baby Jesus in the manger to the precious, but ultimately inanimate and inconsequential gold, frankincense and myrrh of the wise men upon their arrival. They didn't, and nor should we."
This pushing back can take many forms.  My daughter Nicole Starling has much to say on her blog about the development of Christmas traditions in the Christian home (
HERE
); this is one example of what Simon Angus is getting at when he said:

"...where Brand Christmas goes assiduously after our children's material desires, there seems an important work for Christian parents to educate their young in the true meaning of Christmas from the outset. Attending family church services, singing carols and hymns , at home, reading the accounts of Jesus' birth, crafting nativity scenes, and spending time in family prayer..."
I pray that readers of this blog and supporters of
CASE
might have some success this year 'pushing back' on Brand Christmas, and that we might manage lots of gospel gossip with family, friends and neighbours.
If you are not a Case subscriber you can purchase a single issue online via our website HERE.
Leave a comment
Comments will be approved before showing up.