Sport: Introduction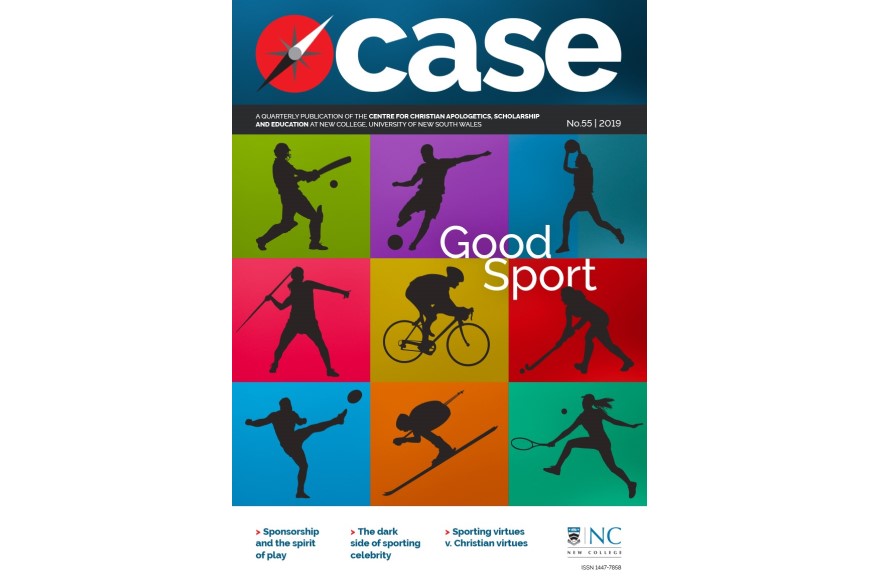 'Get on side Billy!' rings out early on most mornings on Sydney's lower North Shore as men gather to play social touch football just after dawn. Some have played sport at representative level, but a wide range of abilities and ages are represented. What motivates people to get up for such vigorous exercise at such an inconvenient time?
For some of us sport is a fascinating weekly drama in which we live out struggles, pain, and joys together—a microcosm of life. For others, it is a conscious discipline and ongoing affirmation of good physical performance. Recent Roy Morgan research has shown that those playing sport can be significantly less vulnerable to some of the serious concerns facing the general population.[1]
The benefits are wide-ranging. We improve our health in an age of increasingly sedentary lifestyles. We develop or sharpen our physical abilities—presumably originating from a time when the skills of armed combat were a matter of life or death (1 Samuel 20:18ff). We can learn effectively that strong teams depend on cooperative, complementary difference rather than uniformity.
Years ago, poet Bruce Dawe satirised Australian society as living out sport as religion:
In the pure flood of sound, they are scarfed with light, a voice
like the voice of God booms from the stands
Ooohh you bludger! and the covenant is sealed.
Hot pies and potato-crisps they will eat,
they will forswear the Demons, cling to the Saints
and behold their team going up the ladder into Heaven.[2] 
Today, more than ever, sport continues to fill a gap in Australian society once occupied by religious practice. Huffington Post journalist Sam Duncan believes Australians have reached the point of being 'more religious about sport than religion itself'.[3]
Concerns about Australian sport have been growing steadily over the past two decades, principally triggered by financial and performance expectations associated with sports professionalisation.[4]
This edition of Case Quarterly gathers together some very different perspectives on sport in Australian society. The pros and cons of professionalisation are discussed in an updated version of Damian Grace's insightful analysis of threats facing sporting ethics and the spirit of play, first published 20 years ago by the Institute of Values Research. James Pietsch challenges us to consider what it might look like to exhibit Jesus's beautiful attitudes of Matthew 5 in the sporting arena.  
In recent years, Australia sport has been rocked by ethical controversies surrounding some of our most iconic sportsmen—Adam Goodes, Steve Smith and Israel Folau. While the dust from the original Folau saga is now settling, we felt we couldn't have a 2019 Case issue on sport without commenting on it. Patrick Parkinson has written an excellent summary of the main issues surrounding the furore: religious freedom and discrimination; how far employee contracts can reach into private life; and the reach of sponsorship.
Two people who have worked alongside athletes in professional and community sporting contexts provide views direct from the sporting field. John Best offers an appraisal of modern Australian professional sport—far more frank in tone than that of Dawe's humorous parody—and Raewyn Elsegood shares the joys and challenges of chaplaincy to a community netball club.
Sport is an important and healthy part of life. Yet not all sporting activity is good sport. This issue interrogates this notion of 'good sport'. What does good sport look like? What does it include—and exclude? What happens when we treat sport as a means to an end, rather than an end in itself? How can we, as a society, protect what is good in sport, and minimise what is not? What does being a good sport look like?  Is there a Christian way of playing sport?
Jethro Dickens concludes his reflection on sports ethics with 1 Corinthians 10:31: Whatever you do, do it all for the glory of God. Sport is a microcosm of our lives together: there are judges, rules, infringements, struggles, joys and disappointments. We commend the reflections of our contributors to you in the endeavour to advocate good sport.
[1] www.roymorgan.com/findings/8123-mental-health-conditions-australian-youth-june-2019-201909090253  
[2] 'Life Cycle'. Sometimes gladness: Collected poems, 1954-1987 (Longman Cheshire, 1988).
[3] https://www.huffingtonpost.com.au/sam-duncan/our-obsession-with-sport-has-reached-religious-proportions_a_21623855/ 
[4] E.g. https://www.abc.net.au/news/2013-02-12/reith---sport-doping/4512706; https://www.theguardian.com/sport/2014/mar/08/rugby-sport-head-games-film-brain-damage-dementia.
Leave a comment
Comments will be approved before showing up.